Back to all posts
Posted on:
Masks are Mandatory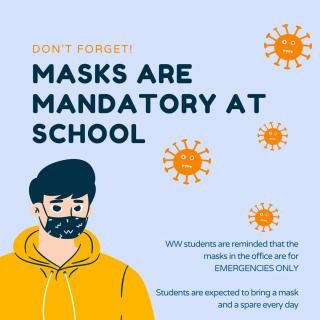 Students and parents are reminded that masks are mandatory while inside the school.  
Students should pack 2 masks to bring to school every day. One mask should be on their face prior to entering the building. The other should be kept in their backpacks, inside a ziploc or reusable bag. This second mask is a backup in case the first mask gets soiled or damaged through the course of the day.  
Masks are available in the office for emergencies only. Students should not plan on getting a mask from the office on a daily basis.