Back to all posts
Posted on:
Open House - May 6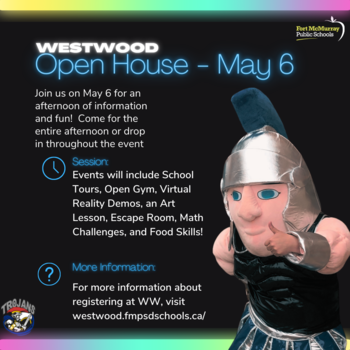 Join us on May 6 from 1 to 3pm for an afternoon of family friendly activities!   Learn all about Westwood, our programming, and what attending our school is like.   
Activities will include
School Tours

Open Gym

Virtual Reality Demos

Art Lessons

Escape Room

Math Challenges

Food Skills
Come for the entire afternoon or drop in throughout the event.
Our schedule for the afternoon:
1:00 pm to 3:00 pm

Free Popcorn for all Attendees

Main Hallway 

1:00 pm to 3:00 pm

(Every half hour)

School Tours Provided by our Student Ambassadors 

The Pit 

1:00 pm to 3:00 pm

Open Gym with Westwood Athletes

Gymnasium

1:00 pm to 3:00 pm

Virtual Reality, Computers, and Robotics Demos

Computer Science Lab Room 127

1:00 pm to 2:00 pm

Art Lesson with Ms. Swagers

Art Room

1:00 pm to 3:00 pm 

Math Fun with Ms.Kenny 

Main Hallway

1:30 pm to 2:30 pm

Foods Skills with Mr. Loxam

Foods Room

1:oo pm to 3:00 pm

Locked Escape Room

Room 163

1:00 pm to 3:00 pm

Talk to Student Services and Administatration about Westwood and Registration

The Pit